Due to the blessings the Fraley family has received, our ministry only charges shipping & handling for these products.
Just Released! Bob's new booklet: Know Your Enemy Learn More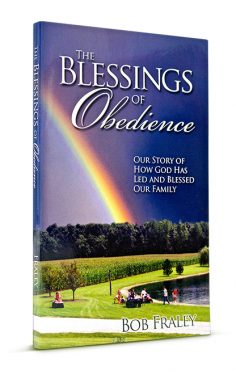 The Blessings of Obedience – Our Story of How God Has Led and Blessed Our Family
Hard Cover
$1.00Books and booklets are $1.00 US each.
Minimum order quantity: five (5) books or booklets.
Minimum order amount: $5.00 US
Description
"The Blessings of Obedience" — This book shows the remarkable true life story of how the Lord led two ordinary people for the saving of their family in these troubled prophetic times called The Last Days. By their actions and choices, they have demonstrated what it means to live a life of faith and trust in God.
Special Church Offer:
Attention all Pastors! Our ministry would like to gift you and your church community FREE copies of The Blessings of Obedience book! Call our ministry office today to receive this gift! 1-866-998-4136.
Shipping & Handling is Free for Pastors/churches only; please order only 1 book per family in your church.