Due to the blessings the Fraley family has received, our ministry only charges shipping & handling for these products.
Just Released! Bob's new booklet: Know Your Enemy Learn More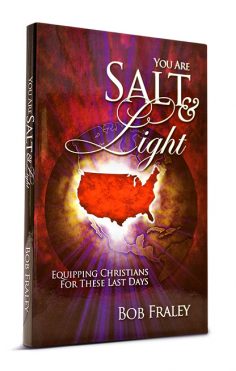 You Are Salt and Light – Equipping Christians For These Last Days
(Study Edition)
$1.00Books and booklets are $1.00 US each.
Minimum order quantity: five (5) books or booklets.
Minimum order amount: $5.00 US
Description
231 Page – Trade Size – STUDY EDITION
You Are Salt and Light –Equipping Christians For These Last Days – This 231 Page "Study Edition" book is arranged for individual and small group devotions.
In the Sermon on the Mount, Jesus called His followers to be salt and light to the world around them. In our day, the Devil has successfully contaminated the salt and hidden the light—and our world is in darkness. Learn how you can overcome his attacks in this dynamic book.
Christians in America are faced with domestic moral standards and issues that are of tremendous urgency. Every "Born Again" Christian is called to act against conventional wisdom, against social expediency and often against the popular will. We have a mission to fulfill, a responsibility to make our country, and the world, a better place by preserving all that is good as given to us through God's Word! We are to be people not to make others proud of us—but who think of and put the "Kingdom of God" first. That is what being "salt" and "light" is all about! However, we can only do this if we are prepared.