Due to the blessings the Fraley family has received, our ministry only charges shipping & handling for these products.
Just Released! Bob's new booklet: Know Your Enemy Learn More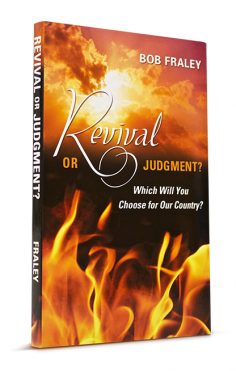 Revival or Judgment? Which Will You Choose for Our Country?
Softcover
$1.00Books and booklets are $1.00 US each.
Minimum order quantity: five (5) books or booklets.
Minimum order amount: $5.00 US
Description
This book will make the prophecies of scripture come alive in new ways, pointing to the Bible for answers to questions such as:
*What does the Bible really say about America in these Last Days?
*Who (or what) is the beast of Revelation 13?
*What will eventually happen to the church?
*How will spiritual warfare unfold in these Last Days?
*How can we bring a God-sent revival for America?