Due to the blessings the Fraley family has received, our ministry only charges shipping & handling for these products.
Just Released! Bob's new book: Master of Deception Learn More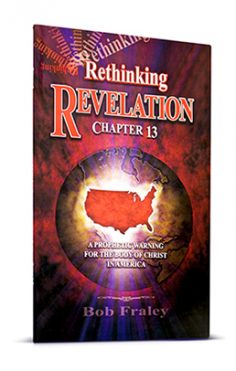 Rethinking Revelation Chapter 13
$4.00$4 any 1-15 booklets. Over 15, $0.27 each.
Description
For the thoughtful Christian the prophetic warnings about a "beast" in Revelation chapter 13 can be made clear. Namely, this moment in which we are living will be the most difficult time ever for Americans to be committed followers of Jesus Christ.
Have you ever asked yourself why our enemy, Satan, is prevailing against Christian values in our country? In a country that has more Bible colleges, seminaries, churches, Christian books, DVDs, podcasts, evangelistic outreaches, Christian bookstores, and TV and radio stations than the rest of the world combined; why is Satan prevailing against our Christian values? This 48-page booklet is packed with answers to this question and more!