Due to the blessings the Fraley family has received, our ministry only charges shipping & handling for these products.
Just Released! Bob's new book: Master of Deception Learn More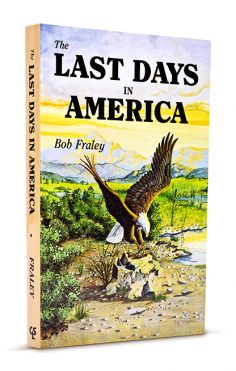 Last Days in America
$4.00$4.00 Each, $10 any 3-10 books. Each add'l $1.00.
Description
Are we living in the last days? There are many people who point to different signs and events as markers. But what does the Bible teach, particularly about America's role in end-time events? You will never look at prophecy the same way after you read this book.
For over twelve years, the author was engaged in intense scriptural research and exhaustive study to confirm a revelation received from the Lord in 1971: the exact meaning of the prophetic Scripture which identifies America's role in end time prophetic events. For any prophetic revelation to be truly inspired by God, it must fit perfectly with all other prophetic Scripture in the Bible. Through his research, the author has confirmed this revelation. You will be challenged and motivated with the explanation of one of the greatest mysteries among Christians, how the world's most powerful nation fits into Bible prophecy. The surprising and prominent role America plays in end-time events is revealed in this book."