Due to the blessings the Fraley family has received, our ministry only charges shipping & handling for these products.
Just Released! Bob's new booklet: Know Your Enemy Learn More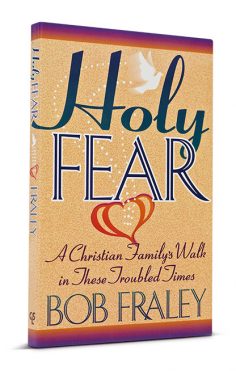 Holy Fear
$1.00Books and booklets are $1.00 US each.
Minimum order quantity: five (5) books or booklets.
Minimum order amount: $5.00 US
Description
Read Holy Fear to unfold the story of a Christian family living a victorious life and rearing their children to love and fear God in the middle of a hostile culture. This book will challenge and inspire you to see what is possible when we follow the instructions laid out in Scripture.
This book addresses the moral decay, social turmoil and economic issues we face as End-Time parents and provides us with a proven guideline to place our families on solid ground. It is the unique story of Bob and Barbara Fraley, called of God in 1969 to raise six children whose parents were tragically killed in an automobile accident. Through the prophetic direction of the Lord, Bob and Barbara have been able to successfully guide their family in the troubled days in which we live; they share these insights with you. Their prayer for you and your family is simply this: Just as God used holy fear to guide Noah and his family to safety in their day, may He use the principles of Holy Fear to steer you and your family successfully through these Last Days.